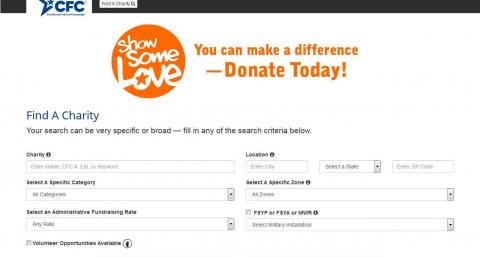 Now is the time to review your CFC description    
          As CFC charities are getting their 2020 campaign acceptances, now is the time to look closely at your CFC description. You can change your description when you pay the CFC's "listing fee," after you receive your acceptance. 
          In the past, you wanted to write as compelling a case as you could about your work and why it's important…in 25 words. 
          Now, in the CFC's new digital age, you want a compelling case and effective search words.  You want to optimize your CFC description for the CFC's new search engine – SEO for the CFC.
          Now at least you get up to 256 characters, or roughly 40 words. 
Why is this important?
          In 2019, four out of five CFC dollars were given online.  The CFC office is moving to an online-only campaign, as early as 2022. 
          For searches, the CFC database includes your charity's name and 256-character description.  Does this collection of words and phrases include common searches that would lead people to your charity? (The CFC database has other information about CFC charities, such as the "zone" in which a local charity is located and the category of each charity's work, such as Housing and Shelter.  But users decide whether to specify the category or zone of their searches, not the search engine.)
           How do people find you online?  Which search terms do they use?  That's what you want in your name and description. 
           If your charity has digital specialists, this is easy: call in reinforcements.  If your charity doesn't, think about how you would search for a charity doing what your charity does.
           Is it "Christian charity?" Or "charity helping Haiti." Or "charity working in Africa." 
            Is it "Alzheimer's research?"  Or maybe it's also "Alzheimer's Disease research."  The CFC search engine is not Google: the lack of "Alzheimer's Disease" in your name or description can make a difference in which charities come up.
          Sometimes, like now, it's important to be topical.  Is your charity responding to the pandemic?  You know that, come fall, many people will be searching on "covid" or "coronavirus" or "pandemic."  Can you work these words into your description? 
          Similarly, if part of your charity's work involves the police and minority communities, or racial justice, it may be good to get these words into your description. 
          This is tricky, which is why it needs some focus.  Talk with other staff, volunteers or family members about how they would do a search that might lead them to find your charity.
          Most important: play around with the CFC's search engine.  See if your charity comes up when you enter possible search terms.  (Currently, the database being searched is the list of 2019 CFC charities.)
          If you come up, which other charities come up with you?  If you don't, which charities do come up?  You'll find the reason you don't come up by focusing on those charities' names and descriptions. 
          How do people refer to your charity?  Maybe is "LDEF" for the NAACP Legal Defense and Education Fund. For American Civil Liberties Union, it's "ACLU." If people use your acronym, use it in your name or description. 
          Some charities have very long names in the CFC, using both their DBA names for the CFC as well as their legal names, such as "Cancer Prevention and Aid Institute (Cervical Cancer Prevention and Assistance)."  One advantage in using both names: if someone searches on "Cervical Cancer," this charity will come up. 
          Given the uncertainties of search, when you ask your past CFC donors to support your work again, urge them to use your CFC number or at least your exact name.  If they search on your CFC number, only your charity will come up. 
"My charity comes up, but not at the top"
          The order in which charities appear in a search is supposed to be determined largely by the order of CFC federations, which changes every year.  (If your charity is not part of a federation, you are in one of three Independent Charities "federations.")
          Two factors determine the order in which federations appear.  First, there are three broad categories of federations: Local, National, and National/International.  The order of these three categories rotates each year.  In 2019, Local federations were last.  This year, Locals will be first, followed by National/International and then International. 
          Within these three categories, a lottery determines the order of federations.  In 2019, the first federation was Health and Medical Research Charities of America.  In 2018, this federation was 41st. 
          Before so much CFC giving was done online, the order impacted where a charity appears in the CFC's printed catalogs, which employees used to fill out their paper pledge cards.  There are still some printed catalogs, but far fewer than in the past and they are being phased out. 
          Today, the order mainly impacts online giving by influencing searches. 
          You can really see this impact by noting where Local federations come up in the order.  In 2019, with locals last, giving to national and international charities actually went up, despite an overall 12% decline in the CFC.  In contrast, giving to local charities went way down.  This should change in 2020, with Locals first.
          At least in the past, when local charities were first, a slew of local charities from all over the country would come up before national charities came up when someone searched on, say, Alzheimer's Disease.  It's possible this search engine flaw has been fixed as the online giving website has been further developed, so that national and international charities won't be hurt as much this year, with Locals again first.   
          Please let us know your experience with the CFC's search engine and what you've learned.  We're not SEO experts and it's not always easy getting information from the CFC itself.  We'll revise this article as we learn more.