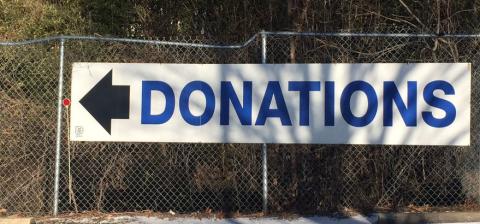 There is a surprising amount of value in the items that people often donate to charities.  Used clothing alone is a global market worth $4 billion, according to an expert in development geography at Kings College London.
            This expert is quoted in an investigative article written by the Center for Investigative Reporting, which looked at the organization behind the Planet Aid's extensive network of bright yellow donation boxes throughout the U.S. and Europe.  This charity has been strongly criticized by Charity Watch, earning an "F" rating. The Center for Investigative Reporting found that Planet Aid is tied to a secretive and controversial Danish organization known as the Teachers Group.  Its investigation also found little evidence of Planet Aid donations being used effectively in Africa, which is Planet Aid's focus. 
            In other words, it's important to know at least a little about the charities you're supporting with your donations.  That's the purpose of this website. 
It's also important to know how you want your donations used. 
            Many charities simply sell donations in bulk to dealers, using the proceeds to support the charity's programs.  Thrift stores attached to charities like Goodwill and Salvation Army have done this for decades.  Today, some donations become part of a global market rather than a local thrift store. 
            Other charities use your donations in their programs.  They use donated furniture to furnish apartments for homeless families.  They use donated cars to help families who need transportation.  They use donated business clothes to help people looking for work.  We've tried to find local charities that use your donations in this way. 
            But as long as the proceeds are used for charity, the global market for donated goods can be a good thing: it helps support services that will pick up your donations.
Will charities pick up your donations? 
            The easiest way to find out if there is a local charity pick-up service is to go to www.DonationTown.org .  Put in your zip code.  You'll get a list of charities that are able to pick up donations. 
            Most pick-up services cannot come into your home, only doing curbside pick-up.  Many also can only pick up things that can be handled by one person, the driver.  As a result, many will not pick up large furniture inside your house.