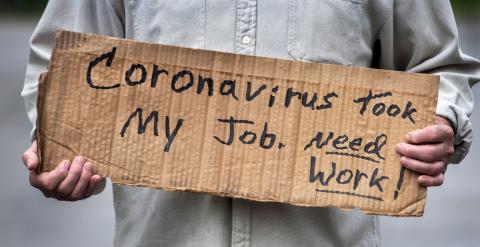 One of the best ways to respond to disasters is to support funds set up by local organizations, often a community foundation or United Way.  In response to the covid disaster, more than 900 funds have been set up across the country according to Candid, a new organization created through the merger of the Foundation Center and Guidestar. 
          In the DC area, nine funds have been set up, including one by the regional United Way and three by area community foundations.  Some support the entire DC region; others focus on specific areas, such as Frederick and Loudoun Counties.  Many of them have emphasized the needs of low income and minority communities.  Nearly all would like to receive more support from donors. 
COVID-19 Emergency Response Fund
Funder: Greater Washington Community Foundation
Areas served: DC and Montgomery and Prince George's Counties. 
This fund was set up to support emergency preparedness and response efforts and to help mitigate the impact on low-income households and communities of color.  The fund has raised more than $10 million for over 300 DC-area nonprofits that have provided food, shelter, educational supports, legal aid and other services.  It has been supported by more than 800 donors, including foundations, corporations and individuals.  Initial priorities included:
Expanding access to childcare for low-income families and services for out-of-school children and youth.
Mitigating the impact of reduced wages and lost work for hourly wage and gig economy workers or small business owners, especially for people of color who are disproportionately affected.
Providing support for healthcare and direct service providers in addition to creating medical care access for seniors, marginalized communities, people without coverage and other vulnerable groups.
Addressing the unique needs of people experiencing homelessness and people at risk of homelessness.
Filling gaps for nonprofits facing loss of revenue due to event cancellations, lack of volunteers, and lack of access to necessary supplies.
Phase 3 priority areas included improving food security, support for childcare, eviction prevention and housing stability, and expanding employment opportunities.  Deadlines for applying for grants have passed but the Community Foundation will make additional grants as funding allows. 
United Way NCA Emergency Assistance Fund
Funder: United Way of the National Capital Area
Areas Served: DC, Montgomery and Prince George's Counties, Alexandria, Arlington, Fairfax, Falls Church, plus Loudown and Prince William Counties.
United Way reactivated its Emergency Assistance Fund to promote the health, education and financial stability of the community, especially for residents impacted by restrictions and closures of schools, businesses and community institutions. Initially it provided food, basic needs and other assistnace to thousand of individuals who were impacted by the loss of income, the need to self-quarantine, the need to care for people with the virus and school-age children who depend on their school's meal program.
The Fund provided more than $700,000 to 30 nonprofit partners to provide access to food, health and financial stability.  It provided food and basic needs to 5,000 familities.  It delivered nearly 8,500 meals to front-line health care workers at 20 local hospitals.  And it supported 600 displaced workers from low-income communities.
It is now focusing on the recovery phase.  "We are finding the gaps of inequity widening for those who fall below poverty guidelines, those who lack adequate access to healthcare, communities of color and those with different abilities."
DC Bar Foundation Covid-19 Response Fund
Funder: District of Columbia Bar Foundation
Areas served: Washington, DC
This Fund addresses needs in the District's civil legal aid network caused or made worse by the pandemic. It is providing emergency grants and other support to help the legal aid community adapt and respond to the needs of workers and families who are most vulnerable to the health and economic repercussions of the pandemic. 
In its initial round of grants, the Fund prioritized small nonprofit legal aid organizations working with communities of color.  It is focusing on three areas:
Employment Law: Helping grocery workers, nursing assistants and other low-wage workers navigate workplace challenges stemming from COVID-19, such as rights to personal protective equipment or sick leave.
Family Law: Assisting families with child support, custody and visitation emergencies, such as parents not complying with existing visitation orders.
Public Benefits: Supporting individuals who have lost their low-wage jobs due to the crisis to secure unemployment compensation, as well as other types of cash and food assistance for their families.
Grandfamilies Covid-19 Response Fund
Funder: Generations United, Inc.
Area served: DC
Generations United focuses on grandparents and other relatives raising children, helping them overcome barriers to housing, health care, food and financial assistance.  The current crisis "has heightened the fragility of these households and exacerbated the challenges they face."
Its Fund receives and disseminates funds to local nonprofit service providers.  It focuses on the need for financial assistance or concrete goods to help with housing, food and nutrition, books and games, technology, transportation, health and hygiene, and legal fees concerning the care of children. 
Through the nonprofits it supports, the Fund has provided nearly 40 laptops to grandfamilies and made more than 50 grants totalling more than $100,000. 
Funder: Washington Area Women's Foundation
Area served: DC, Montgomery, Prince George's, Arlington and Fairfax Counties, plus Alexandria
The Foundation believes that women and girls are bearing the brunt of the pandemic crisis, shouldering the majority of caregiving and being the hardest hit by job loss.  Women of color in particular have been hard hit by "structural inequities that were in place long before this pandemic." 
The Fund focuses on two issues: the safety of women experiencing violence and the stability of frontline care workers. It supports:
Critical services for women who have experienced violence and abuse, such as expanded hotline capacity and telehealth visits.
Financial assistance for the caregiving workforce and organizations supporting them.
Advocacy to ensure that women and girls of color are front and center in recovery discussions.
Arts & Humanities COVID-19 Relief Fund
Funder: Arts and Humanities Council of Montgomery County
Area served: Montgomery County
Arts organizations have been especially hard hit by the pandemic since many rely on ticket revenue.  This Fund, supported in part by the county government, gives local arts nonprofits flexibility to use funds for their most urgent needs, supporting day-to-day operating costs and furthering the general mission or work of an organization or individual artist/scholar. Rather than funding a particular project, relief funds can be used for programming costs or vital administration costs, such as rent, utilities and employee salaries.
The application deadline was in September, but the Council's website lists many other resources for local arts organizations struggling during the pandemic.
Community Emergency Relief Fund
Funder: Community Foundation for Loudoun and Northern Fauquier Counties
Area served: Fauquier and Loudoun Counties
This fund provides grants to local agencies to meet both immediate and long-term needs related to the pandemic. It focuses on organizations that: 
Provide direct financial assistance to individuals who need monetary assistance to meet basic needs such as housing, utilities and medical expenses due to the impact of COVID-19, with an "emphasis on marginalized and vulnerable populations."
Provide services directly addressing impact of COVID-19 such as food distribution, shelter, housing and health care.
It is also supporting human service nonprofits facing significant losses in income. 
Frederick Economic Development COVID Fund
Funder: The Community Foundation of Frederick County, Inc.
Area served: Frederick, MD
This Fund focuses on small businesses in Frederick that have been impacted by the pandemic, in the form of grants for rent, mortgage payments and utilities.